Toolbar
Toolbar component contains various elements like filters, Action Buttons, Quick Buttons.
Toolbar will be placed on top of all the list resources page.


Filters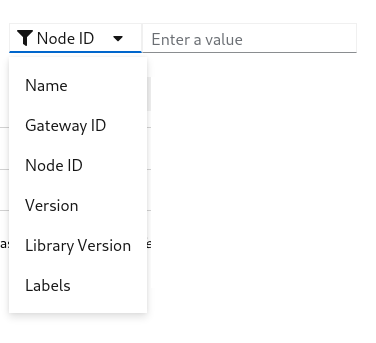 By clicking the Filters button you can see the list of available filter options
Each filter is a field on the resource
Selecting more than one filter applies AND logic
By selecting a filter you can see one of the following filter

Text input filter
Selection filter
Labels filter
Text input filter
This filter works in two different modes
Regex

In this mode performs case insensitive and is the value contains search

Is In

When supplying same option filter more than once, filter mode for that field switch to Is In
Verifies that particular field has one of the input
Selection filter
This filter works same as Text input filter
Labels filter
Label filter is a special filter used to filter a resource by labels.
You can supply label in the format of key=value

Examples:
location=external
zone=south
version=2.0.2
Action Buttons
By selection one or more number of row, the action buttons drop down will be enabled
Selecting an action on the dropdown apply to all the selected resources


Quick Buttons
Couple of quick buttons will be on the toolbar

- Refresh button, reloads the resources from the server
- Add button, takes to add resource page
Feedback
Was this page helpful?